Still Painting Fetches $61.7 Million in Auction
An abstract painting by Clyfford Still sold for a record $61.7 million last night, headlining Sotheby's biggest New York contemporary art sale in three years, while protesters outside chanted "Shame on you!"
The $315.8 million auction at Sotheby's York Avenue headquarters also broke artist records for Gerhard Richter and Joan Mitchell. Six floors below in the street, picketing art handlers were joined by Occupy Wall Street protesters and unionized musicians playing high-decibel Latin rhythms. Since July 29, 42 handlers have been locked out by the publicly traded auction company over a contract dispute.
"It demonstrates the growing gap between the haves and the have-nots," said New York art dealer Richard Feigen. "You see people demonstrating out there, people are out of jobs and their houses. And people in here are dumping millions into art."
The sale, the biggest for Sotheby's (BID) since May 2008, beat the presale high estimate of $270 million, which excludes commissions. Earlier in the day, the Standard & Poor's 500 Index dropped 3.7 percent.
"Blue-chip global artists are properly recognized as part of the diversification strategy," said New York-based art collector Larry Warsh. "Because of the supply and demand issues, we see this tremendous pressure on pricing.'
The Still painting, "1949-A-No. 1," shattered the artist's previous record of $21.3 million, achieved at a Christie's International sale in 2006. It sold to a telephone bidder, represented by Lisa Dennison, Sotheby's chairman of North and South America. She won a bidding war against Christopher Eykyn, a New York dealer who had a mobile phone to his ear and his hand covering his mouth.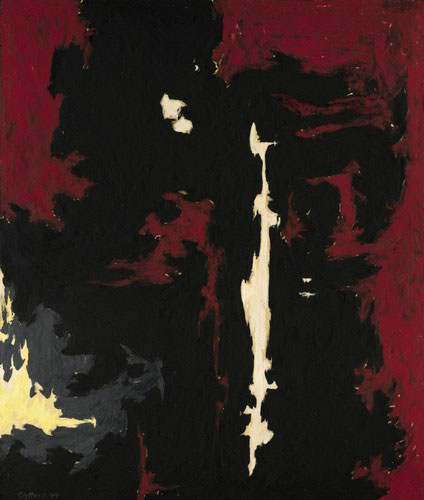 ``1949-A-No. 1'' (1949) by Clyfford Still
Denver Museum
The work was one of four Stills consigned by the City of Denver that raised a total of $114.1 million for the endowment of the Clyfford Still Museum, which opens in Denver next week. The reclusive artist died in 1980.
Three of the works were completed in the 1940s and one in 1976. The top lot, in deep reds and velvety blacks, more than doubled its presale low estimate of $25 million.
During his life, Still sold very little and frequently rejected exhibition opportunities. His will stipulated that the estate be given in its entirety to a U.S. city willing to establish a permanent museum housing his work alone.
Richter's "Abstraktes Bild" (1997) sold for $20.8 million, beating his $16.5 million auction record set last month at Christie's in London. The 8.5-by-11-foot oil canvas, rich in purple, red and blue, was one of eight abstract paintings by the German artist from a private collection. Every painting exceeded its high estimate.
- Katya Kazakina and Philip Boroff